The story of G. Lalo begins with the arrival of a young man in Paris.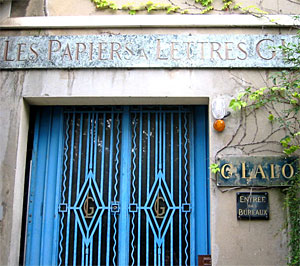 He was hired by a company specializing in printing and stamping, and caught the attention of his employers for his creativity and thorough knowledge of paper. He worked hard, and attended drawing and sketching classes at night.
But Georges Lalo, a passionate and ambitious man, had a vision: to create luxury stationery in the heart of Paris.  In the summer of 1919 he rented a modest studio on rue Richer and bought second-hand stamping machinery. G. LALO, manufacture de papiers à lettres et d'enveloppes de luxe, was born.


George Lalo



G. Lalo has remained a small, personal stationery maker. It has preserved its French identity and "bon goût français"." The foundation of the company in the heart of Paris was important to Georges Lalo because Paris is the city of fashion, and the starting place for many trends and styles. 
G. Lalo is famous for the colors of its papers.  There are traditional colors such as ivory, white and champagne, and wonderful hues of rose, blue, grey and aubergine.
Georges Lalo's nephew introduced the U.S. market to their papers by holding trunk shows at prestigious New York, Chicago and San Francisco hotels.  As in the most elite
French couture, the bespoke stationery clientele were shown samples of the papers and then placed their orders.  Each sheet was hand-engraved.
George Lalo chose the site for his atelier close to luxury Parisian stationers and department stores. They were among the core of his earliest clients and remain so to this day.
Within 20 years of its founding, G. Lalo became the reference for social stationery in Paris, and also provides the royal courts of Sweden, Holland, Belgium and Monaco with hand-crafted stationery.